Heather Henninger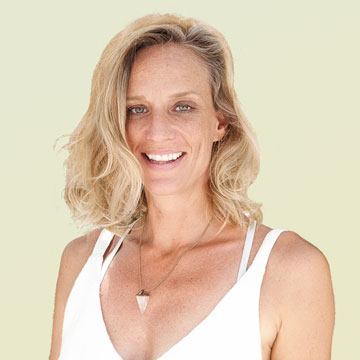 Heather Henninger, YTRx-500, RYT® 500, KRI Certified Instructor of Kundalini Yoga as taught by Yogi Bhajan®
In Her own words Heather tells us:

"I distinctly remember walking by the yoga classes at my gym in college having a deep curiosity for it but ultimately I allowed my fear of looking foolish keep me from exploring the practice. It wasn't until my early 20's that I bought a DVD and first tried yoga in the comfort of my own home. After practicing in my living room for about a month, I finally gained the courage to go to a studio. Not knowing that there are different types of yoga, I first landed myself in a Bikram class. The teacher praised my (still-then kapha) flexibility and told me I was a natural which was the affirmation I needed and it marked the beginning of my now life-long commitment to the practice.
Initially, I was only interested in yoga as a means of managing chronic low back pain caused by scoliosis and as a general fitness regime. All the while, I was suffering from mild depression not realizing the mental and emotional benefits that yoga could provide. Ten years into my practice, the mild depression turned severe as I experienced a prolonged episode of grief and loss. At this time in my life, my yoga practice was the only thing keeping me a functional member of society but I was stuck in a pattern - a samskara – and nothing I was doing was alleviating the depression. Eventually, I remembered that a former neighbor of mine practiced kundalini yoga and because of our previous conversations about it, I knew that practitioners of this yoga meditated and had a disciplined morning sadhana routine which was something that I wasn't being exposed to and I figured it might help. And so, in search of relief and something more, I blindly embraced the lineage of kundalini.
Within a few months of practicing, kundalini incrementally tempered my emotional trauma and profoundly deepened my practice. Inspired by my own personal breakthroughs, I was inspired to become a teacher and later, a yoga therapist. But it wasn't until the end of my 8 months of kundalini training that my depression literally got up one day and walked out of my life, never to return. I didn't understand at the time why my depression began or how or why it cleared…frankly I was just grateful to be liberated from the emotional suffering. Kundalini is like this - sometimes the "why" answers don't present themselves immediately but there is undeniable shift. As the poet Rainer Maria Rilke said, you must "Be patient toward all that is unsolved in your heart and try to love the questions themselves….Do not now seek the answers, which cannot be given (to) you because you would not be able to live them. And the point is, to live everything."
Years later, during my yoga therapy training, I was emotionally happy and in the best physical shape of my life. Apart from my regular yoga practice, I was actively working out 4+ times a week with a mix of spin, sculpt and weight training classes as well as running. I became so addicted to the high I was getting from my workouts that I began ignoring my body's signals that it was too much for my scoliosis and that I ought to back off. Ultimately I pushed myself to the point of major injury which resulted in two torn and bulging discs in my lumbar spine, sciatica and piriformis syndrome. I suffered from excruciating nerve pain and I nearly went on disability as a result of it all. It was a very scary time and a very profound lesson for me in many ways as it effected everything from my vanity, independence, financial well-being, and trust and overall patience in the healing process. It taught me so many lessons and I feel the process ultimately gave me a personal perspective I would not have otherwise had and I feel it has made me a better, more compassionate person and teacher.
Because of my past professional career in the music industry, my classes strongly integrate the healing art of music – incorporating sacred mantra and modern rhythms as a means to vibrate the subtle energies of students. I had the honor of studying kundalini with master teachers Harijiwan, Tej Kaur Khalsa, Guru Jas and Guru Jagat and Yoga Therapy with Larry Payne, Mirka Kraftsow, Richard Miller, Robert Birnberg and many other renowned practitioners. I first began my teaching career at Golden Sol and Wanderlust Hollywood in Los Angeles and I now reside full time in Tulum, Mexico where I am a resident teacher at Nômade, Habitas and Holistika Tulum.
Once you're exposed to this sacred technology, you are forever changed. One class can be a wave of confrontation, bliss and mystery. But most of all, I'm passionate about sharing it because it is transformative and fast and the effects are undeniable and lasting. I hope I have the opportunity to share it with you."
Connect with Heather: