Ana Ricabal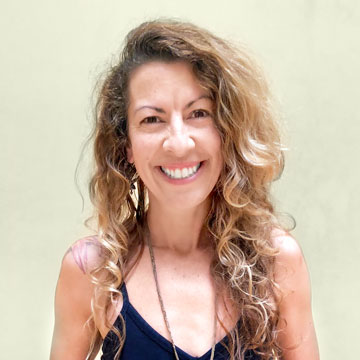 Exploring dynamic movement has been essential to Ana Ricabal's life since childhood. "Moving daily allowed me to become more present, find stillness, be mindful, and let go of what wasn't serving me," she says. In particular, "Yoga helped me grow stronger and become more flexible and fearless, both on and off the mat."
Inspired by the profound effects of Yoga, Ana began cultivating a regular practice in 2013. She received her 200-hour Yoga teaching certification in 2017 and is proud to be a bilingual (English/Spanish) Yoga teacher. Passionate about energy healing, bodywork, and wellness, Ana is also a massage therapist and Reiki Level 1 certified.
Ana approaches Yoga as a resource that should be accessible for every Body. Her vinyasa-based classes are guided by breath-to-movement connectivity. Practitioners integrate movement within poses to free fascia and promote the body's overall mobility. At the end, her students are in for a real treat—a delicious personalized adjustment from her healing hands in savasana!
Expect to be welcomed wholeheartedly and to leave feeling challenged, regardless of level or background.
---
Explorar el movimiento dinámico ha sido esencial para la vida de **Ana Ricabal** desde la infancia. "Moverme diariamente me permitió estar más presente, encontrar quietud, ser consciente, y dejar ir lo que no me estaba sirviendo", dice. En particular, "el Yoga me ayudó a fortalecerme ya ser más flexible y audaz, tanto dentro como fuera del mat."
Inspirada por los profundos efectos del Yoga, Ana comenzó a cultivar una práctica regular en 2013. Recibió su certificación de enseñanza de Yoga de 200 horas en 2016 y se enorgullece de ser una profesora de Yoga bilingüe (inglés / español). Apasionada por la curación energética, el trabajo corporal y el bienestar, Ana también es terapeuta de masajes y está certificada en Reiki Nivel 1.
Ana se acera al yoga como un recurso que debería ser accesible para todos los cuerpos. Sus clases basadas en vinyasa son guiadas por conectividad de respiración al movimiento. Los practicantes integran el movimiento dentro de las posturas para liberar la fascia y promover la movilidad general del cuerpo. Al final, sus estudiantes se encontrarán con un verdadero placer: ¡un delicioso ajuste personalizado de sus manos curativas en savasana!
Espera ser bienvenido de todo corazón y salir sintiéndote desafiado, sin importar el nivel o los antecedentes.
Connect with Ana / Conéctese con Ana: