Live Streaming Yoga Therapy
While Yoga Therapy is relatively new to the western world, it has been at the forefront of traditional healing across India for centuries.
In essence, Yoga Therapy is the art of utilizing the properties of asana, pranayama, and consciousness creation to facilitate healing and evolution.
It all begins with the individual. No two people are the same, so no two individuals with the same ailment will present symptoms in the same way. In that vein, no two Therapeutic Yoga treatments are the same.
Our Approach
Listening is our secret weapon.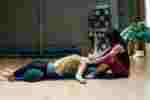 When clients come to us, we connect with each as the unique human that they are. Through questions, observations, and appropriate adjustments, we determine the best course of action for each individual.
We know that when an injury or illness has been present for some time, it begins to break down mental defenses, leaving one anxious and often depressed. It's our understanding of the unique interaction between physical and psychological symptoms in the individual that shapes the practice.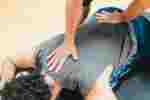 To that end, though your treatment may include physical exercises (asana and kriya) which can resemble physical therapy, we as Yoga Therapists go far beyond this practical experience. We integrate breathing and mindfulness techniques that can be practiced later on your own. This places the role of healer back into the hands of the individual, exactly where it should be.
It's healing by way of strengthening and leveraging the mind-body connection… healing from the inside out.
Rest assured, Live Streaming Yoga Therapy is working beautifully.
It was feared in the beginning that the online platform would fall short for our clients. Much to our satisfaction this is not the case at all. In the words of a couple of Knekoh's Therapy clients/students:
"Knekoh has a genuine gift for seeing and feeling, even when that means reaching across time and space via the internet." -Julie K
She (Knekoh) is absolutely the best teacher I have ever had. I started this lock down scared and disheartened. She has shown me how to see hope, how to embrace the moment even when the moment means change. Thank You Knekoh". -Jocelyn N.
Our Team
Knekoh Frugé, C-IAYT, YTRx, our resident Yoga Therapist, is certified and credentialed through the International Association of Yoga Therapists as well as Samata International. She is an alumna of Loyola Marymount University and has been a practicing Yoga Therapist since 2003.
Over the years, she has helped countless clients manage and conquer diseases such as cancer and Parkinson's. She has facilitated the complete healing of physical injuries and chronic pain… including that big, nasty culprit of our modern world, back pain.
Through the popularity and demand of this thriving practice, Knekoh welcomed fellow Loyola Marymount-trained Yoga Therapist Ivorie Jenkins to join her at The Healing Center.
Together, Knekoh and Ivorie form a team that's ready to show you how you, too, can heal thyself.
Whether you are dealing with a physical injury, chronic disease, or just plain old fashioned stress, make an appointment today and change your life!
---
_First session: $120 (90-minute session)
Follow-ups: $100 (60-minute session)_
Note: Once booked, we have a 24-hour cancellation policy for all Yoga Therapy sesions. Thank you!

Fill out contact form to book your session today.
Testimonials

I injured my lower back in 2014. After unsuccessful doctor
visits and acupuncture, I decided to try Knekoh's yoga therapy sessions. She rehabilitated my back since then and after 2 years of discomfort/pain, I am feeling healthy and well again. She is thorough, insightful, and knowledgeable about the body and her practice. My work schedule fluctuates, but she always makes time and is accommodating. Knekoh has changed my life in so many ways. I have and will continue to refer her to family and friends!

*Yelp review

Two years ago, I had hip surgery to repair a torn gluteus medius muscle
and tendon. After the surgery and intensive physical therapy, I still had severe pain and difficulty walking. After working with Knekoh on specific Yoga exercises, I have improved muscle strength; my walking has improved as has my energy level. Thanks to Knekoh, I am now able to do so much more."

Knekoh… guided me through a Yoga pose, but unlike
anything I'd ever experienced, She kept coaching me through the breathing while her hand worked on my back. It was as if we were in the pose together. I felt this wave of relief and was absolutely stunned. The pain was GONE. I had tears in my eyes. I felt guided, protected, empowered and finally healed. Thank you Knekoh. You have an incredible, undeniable gift. And most importantly: you share it with such beautiful grace. Thank You! Namaste.