Yoga Retreat to Tulum, Mexico
Join us for a Magical Week of Yoga and Exploration of Tulum, Quintana Roo, Mexico at the beautiful Amansala Eco Chic Resort & Retreat.
Relax & Rejuvenate
Put yourself in healing hands in this healing place.
with Yoga Therapists Knekoh Frugé and Kundalini teacher Heather Henninger.
October 17 – 23
7 days & 6 nights of crystal clear waters of Tulum
Tulum, accomidations, + 3 delicious meals a day made from fresh, local ingredients.
Tulum, Mexico
Beach front Amansala Eco Resort & Retreat
Amansala is the ideal setting to relax and reconnect to yourself or your partner.
It's Time for a Time Out.
Running from here to there, trying to get it all done?
You deserve a break and an opportunity to quiet your mind.
Getting out in nature, and synced up with natural cycles, doesn't just deliver spiritual benefits, but also keeps our brains, bodies and nervous systems in working order.
Yoga is Transformative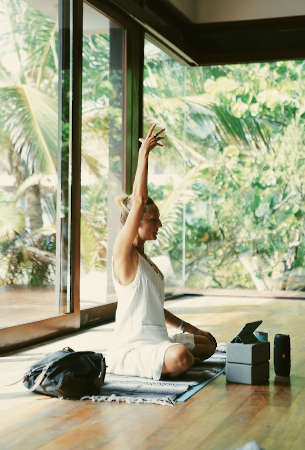 Whether you are a complete beginner or a seasoned practitioner, take your life/Yoga experience to the next level. Take a deep breath and reconnect with who you are meant to be. Remember your dreams and find some peace.
Meet Like-minded Souls
Meet new people who are just like you. No need to come with a friend, you'll find friends here. People to connect with and evolve with on this once in a lifetime journey into being.
Recalibrate
This is your opportunity to be inspired, renew, expand your consciousness and rest, while surrounded by the medicinal elements of nature that exist to cleanse, heal, and remind you who you truly are.
Life is for the Living
Inspire your life! Let's LIVE!!!! You are worth it!!!
Daily Yoga and Meditation Classes to inspire and awaken your true nature.
Shift your mind to better physical and mental health
Learn techniques to de-stress instantly and for the long term
Find a sense of wholeness your didn't think possible
Awaken to all the possibilities that have been swirling just outside of reach; just outside of awareness.
Return home knowing, "I am Alive and Life is Beautiful!!!"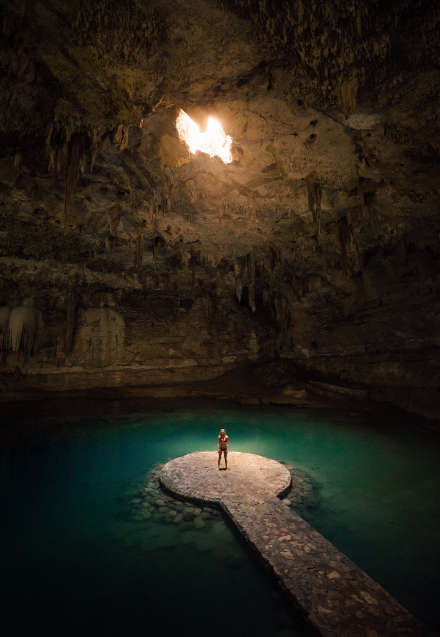 We'll also have plenty of free time to explore the Magic of Tulum
Explore the nearby Mayan ruins of Tulum and Cobá
Swim, snorkel or dive in one of thousands of fresh water cenotes (some cavernous, some open air watering holes)
Kiteboard or SUP (stand up paddleboard)
Visit one of the nearby aqua-colored, fresh water lagoons
Take a boat or kayak tour in the Sian Ka'an Nature Reserve
Zipline through the jungle
Swim with sea turtles in nearby Akumal
Visit the monkey sanctuary in nearby Akumal
Spoil yourself; get a massage!
Take the time to just Be… and
Find True Happiness
What the Retreat Includes:
6 nights and 7 days accommodations at beachfront hotel, Amansala Eco Chic Resort, one of Tulum's first resorts, recognized globally for their eco chic accommodations, unforgettable spa services and bohemian beach vibe
3 meals a day, with the exception of one off site dinner outing of your choice
A blended curriculum of therapeutic yoga, vinyasa, restorative and kundalini yoga as taught by Yogi Bhajan - co-taught by seasoned teachers Knekoh Fruge and Heather Henninger
Built into the schedule is daily free time to explore the magic of Tulum
What You Can Expect
3 classes a day with the nearby breeze, smells and sounds of the Caribbean Sea
Yoga & meditation designed to treat modern day maladies!

Learn techniques to alleviate:

Depression, anxiety and information overload
Computer Neck
Low Back Pain
Dis-Ease and Chronic Illness
Trauma

Learn techniques to increase:

Happiness and Joy
Vitality
Intuition and subtle healing abilities
Strength
Self love
Acceptance

Healthy and delicious meals
A community of like-minded yogis on a path of self exploration
An opportunity to Earth and Ground yourself - Recalibrate and live closer to nature for a week
Accommodations and Three Meals a Day
From $1687
Three to a Room
Per person to share.
Garden view, each with own bed
without AC (Typically no AC is needed in October)
*Note All other rooms have AC
$1687.00
—
Garden view, each with own bed
$1787.00
From $1877
Double Occupency
Per person to share.
Garden view, each with own bed
$1877.00
—
Beach access, each with own bed
$2027.00
—
Garden Plus, share king bed
$1697.00
—
Semi Seaview share king bed
$1817.00
—
Beachfront, share king bed
$2087.00
From $2087
Single Suites
Single occupancy.
Garden Queen
$2087.00
—
Garden Plus King
$2357.00
—
Semi Seaview Plus King
$2777.00
—
Best Beachfront King
$3539.00
Airfare not included.
Taxes not included.
All prices include 3 meals per day. \*Saturday dinner not included so that you can get a taste of the local flavor.
$500 deposit to secure your room.
Earlybird special; pay in full by July 31st – save $125; Pay in full by August 31st – save $75